2022 adnart catalogue.  Check out the line of asobu products to keep your liquids both hot and cold.  Items include water bottles, coffee brewers, Coffee tumblers, Insulators, double wall iridescent glassware, pet bowls and jugs, stainless cups and mugs, growlers, shakers and jars.
In glass and ceramic, find mugs, coffee & tea glass, champagne and wine, beer mugs.  As well as Stemless, highball old fashioned, Martini and shooter glasses.
Check out some of these great videos regarding the 2022 adnart catalogue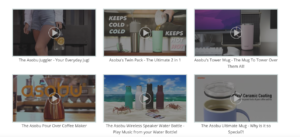 PRINTING
printing refers to silk screening . Using screens and artwork that is "squeegee" screened onto ceramic or glass objects then re-fired in a high temperature tunnel conveyer oven .
SATIN ETCH
Satin Etch is a very popular imprint choice. Less costly than deep etching, you may reproduce fine details and it is priced as a one-color imprint.
DEEP ETCH or DIAMOND CUT
Deep Etch is more technically described as "sand blast engraving".
RAISED ETCH
This unique decoration technique combines the silk screening method with craft crystal glass making moulding, into one process, that yields truly original results. The "raised etch" look, creates a 3D image of the logo that actually raises up off the glass or ceramic surfaces. This unique technique was perfected and created by Ad n Art.
2022 adnart catalogue