More often than not, I am asked the question "what does it mean that your are a print broker?" And I like to answer the question with, it means I can print on anything.  But things like Canvas's and plaque mounts are not often what people think about when they think of a printer.  They think of Costco, or an art store.  But we are able to help provide you with the art you are looking for, in any size you want, and we will walk you through the process.
When it comes to canvas art you have 2 major options other than the size.  One is, do you want the images to wrap all the way around the sides, or do you want it to stop at the edge?  If you want it to wrap all the way around the sides that is called a gallery wrap canvas. It allows for a seamless looking piece of work.
With all of our canvas we also put a coating on it, incase it gets wet, the colours will not run.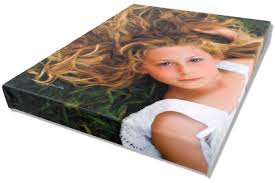 Something else to keep in mind, is the use of plaque mounts.  These have a solid colour on the edges, they are a little classier than a canvas, and you can pick from several colours for the sides.
Both of these options are things most people do not think about when they think of a print broker, so always ask a potential supplier or customer what else they do.
Do you keep your customers informed of all your capabilities?