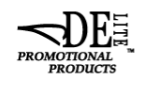 Delite Yanlee Trading is one of the industry's leading promotional product suppliers. We have been serving the industry for over 20 years and have gained valuable experience in understanding market needs and providing on-trend products and excellent customer service.
We were among the first suppliers to introduce reusable utensils, stainless steel straws, and a variety of other eco-friendly products to the market. We are constantly looking for new ideas and innovative products to bring to the market, so please return to our website frequently.
Projects that are unique? Not a problem! With our strong sourcing capabilities and international partners, we can source or even create products from the ground up!
Aside from great products, great customer service is undoubtedly a key to success! Our customer service team is knowledgeable, friendly, and enthusiastic about what we do. We treat all customers and orders equally, regardless of size! We believe distributors and suppliers must work together to win the market; we value all of our distributors and their efforts and would appreciate it if they did the same for us!
We'd like to take this opportunity to thank all of our customers for helping us become a "deliteful" company!
See below for a list of Delite products