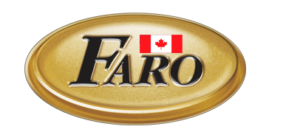 It's been 35 years of Faro keeping things simple!
Faro, founded in 1986 by Tony Ronci Sr., is an excellent example of a true success story. This former costume jewellery supplier grew from its humble beginnings as a family operation in a small factory in Lachine (QC) over the years to become a leading manufacturer in the Promotional Products and Souvenir industries. We are proud to employ hundreds of hardworking Montrealers at our office and factory in Quebec, Canada, with 85 percent of our line produced domestically.
Our company has become well-known throughout North America for its high-quality custom products and highly qualified customer service team. In addition to being named a 5-star supplier by ASI and an A+ supplier by SAGE, we have been named Supplier of the Year for 8 consecutive years and have received numerous other industry awards in both our Advertising Specialty and Souvenir divisions.
Even as the company has evolved over the past 35 years, our approach to business has remained consistent: great service paired with exceptional quality. We believe in keeping things simple, and we stand 100% behind our excellent customer service.
Each territory in Canada and the United States is assigned a Project Specialist who is specially trained to assist customers in selecting, designing, and ordering our high-quality custom metal products. Our dynamic team of artists and production staff work tirelessly to ensure that each piece meets your every expectation, from design conception to final delivery.
We at Faro would like to thank YOU for making the past 35 years possible, and we hope to serve you again soon!
Faro's Customer Service Team will gladly assist you in selecting the appropriate Process or Finish for your custom product. The guide below can help you understand both the obvious and subtle differences between each domestic and imported process or finish. Please keep in mind that, unless otherwise specified (SOS Line and stock bases), our products are custom-shaped and designed specifically for your logo or brand.